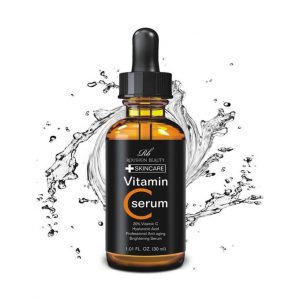 Vitamin C is important for many cellular and essential skin functions. The topical application of vitamin C helps to protect the skin from many problems such as pigmentation, dryness, sagging, photo-aging, and uneven skin tone. Vitamin C in the form of serum protects, repairs, and improves your skin without relying on your body's stores of it. However, every serum is different because of its formulation, concentration, ingredients, and even bottle and dispenser that can affect the benefits you will get from the product. Don't worry! Decoding the best vitamin C serum is not that difficult. In this blog post, we've brought you a practical guide to understand the serum, its ingredients, benefits, application, and further tips. It will help you to make the most out of your vitamin C serum skin treatment. Let's start!
First Off, What Is Vitamin C Serum?
Vitamin C is a potent antioxidant that neutralizes free radicals, aids in the skin's natural regeneration process, repairs damaged skin, reduces hyperpigmentation, brightens the complexion, and minimizes the effects of aging. In other words, vitamin C is the key to a smooth, glowing, and even complexion.
The amount of vitamin C that you take in your diet may not guarantee a benefit for your skin. If you're body is using vitamin C in other bodily processes, such as fighting infection, then those processes will take precedence over maintaining a beautiful skin. Rather than 'compete' with other body systems for vitamin C, it's better to feed the skin directly with a topical form, such as a serum or even pure powder. It helps you to directly reap the skin benefits of vitamin C.
How to Choose a Good Vitamin C Serum
Sadly, you can't rely on every product labeled as vitamin C serum as being effective, because there are many forms of vitamin C that formulators use, apart from the one that demonstrated the best results in skin care.
FORM OF VITAMIN C
The most reliable demonstrations of skin benefits with topical vitamin C occurred with L-ascorbic acid. L-ascorbic acid is water soluble (which means it quickly becomes ineffective when mixed directly in water-based liquids), and oxidizes when exposed to light, oxygen, or heat (also making it ineffective). This is why some vitamin c serum discolor after opening.
Consequently, many vitamin C serums use different chemical forms such as ascorbyl palmitate, magnesium ascorbyl palmitate, or calcium ascorbate—all of which are not as effective as L-ascorbic acid. Another form is liposomal vitamin C, where the L-ascorbic acid molecules are 'encased' in oil, to prevent them degrading; while this uses the most potent form of vitamin C, liposomal formulations are typically quite thick and less pleasant to use.
The latest alternative form is 3-0-methyl ascorbic acid, a stable form of vitamin C that rapidly converts to L-ascorbic acid (over 86% within the deep skin cell layers).
OTHER INGREDIENTS
Vitamin C's processes in the skin are improved with other ingredients such as ferulic acid, glutathione, tocopherol (vitamin E), and more, which act to increase absorption, enhance UV protection and antioxidant effects, or stabilize vitamin C deep within the skin (prolonging its action).
CONCENTRATION
Vitamin C serums should not be less than 10% or more than 20% L-ascorbic acid (or its equivalent).
PACKAGING
Dark tinted bottles with airless delivery ensure L-ascorbic acid serums are protected from light and oxygen. If your vitamin C serum is in a clear bottle, check what form of vitamin c it uses; it may be a less effective type.
What Are The Best Practices To Apply Vitamin C Serum?
The best time to apply your best vitamin C serum is in the morning after cleansing and before moisturizing or sunscreen application. Think of it as providing antioxidant defense for your face before facing the demands of the day.  Wait a few minutes before applying moisturizer or sunscreen.
Do NOT apply vitamin C serum at the same time as vitamin A (retinol) or vitamin B3 (niacinamide) serums. The vitamin C will 'damage' the vitamins A and B, so that they don't deliver their expected results. Instead, use A and B at night.
Remember, it takes weeks for most serums to deliver visible results, so you'll have to be patient awaiting the benefits of vitamin C serum on your skin.
How Can Skin Elegance Help You?
At Skin Elegance, we supply Synergie Skin's high-quality, powerful, and safe vitamin C serum named SupremaC+. This essential daily serum is safe for all skin types.
Our serum has the newest water-soluble stable form of vitamin C, 3-0-methyl ascorbic acid, which after absorption, converts to highly active L-ascorbic acid deep within the skin. The vitamin C is part of Synergie's proprietary CMF Complex™ that also includes mandelic acid to regulates oil production and improve hydration, and ferulic acid to improve the stability of L-ascorbic acid and refill ceramides in the skin. It also contains hydrolyzed tomato skin (an even more powerful antioxidant than vitamin E) and DMI, which increases the penetration of the CMF actives.
For more information on vitamin C serums, check out SupremaC+, our guide, and other instructions.
Who Should Avoid Vitamin C Serum?
Those who have sensitive skin should be wary of serums with high concentrations of L-ascorbic acid and avoid using pure L-ascorbic acid powder (which is better left to those with more robust skin). SupremaC+'s formulation allows even those with sensitive skin to use a vitamin C serum, though we do recommend starting with a test area to ensure safe results. If you start experiencing any kind of irritation or discomfort, stop using the serum.